Reaching Stage Two of our Funding Process
December 15, 2022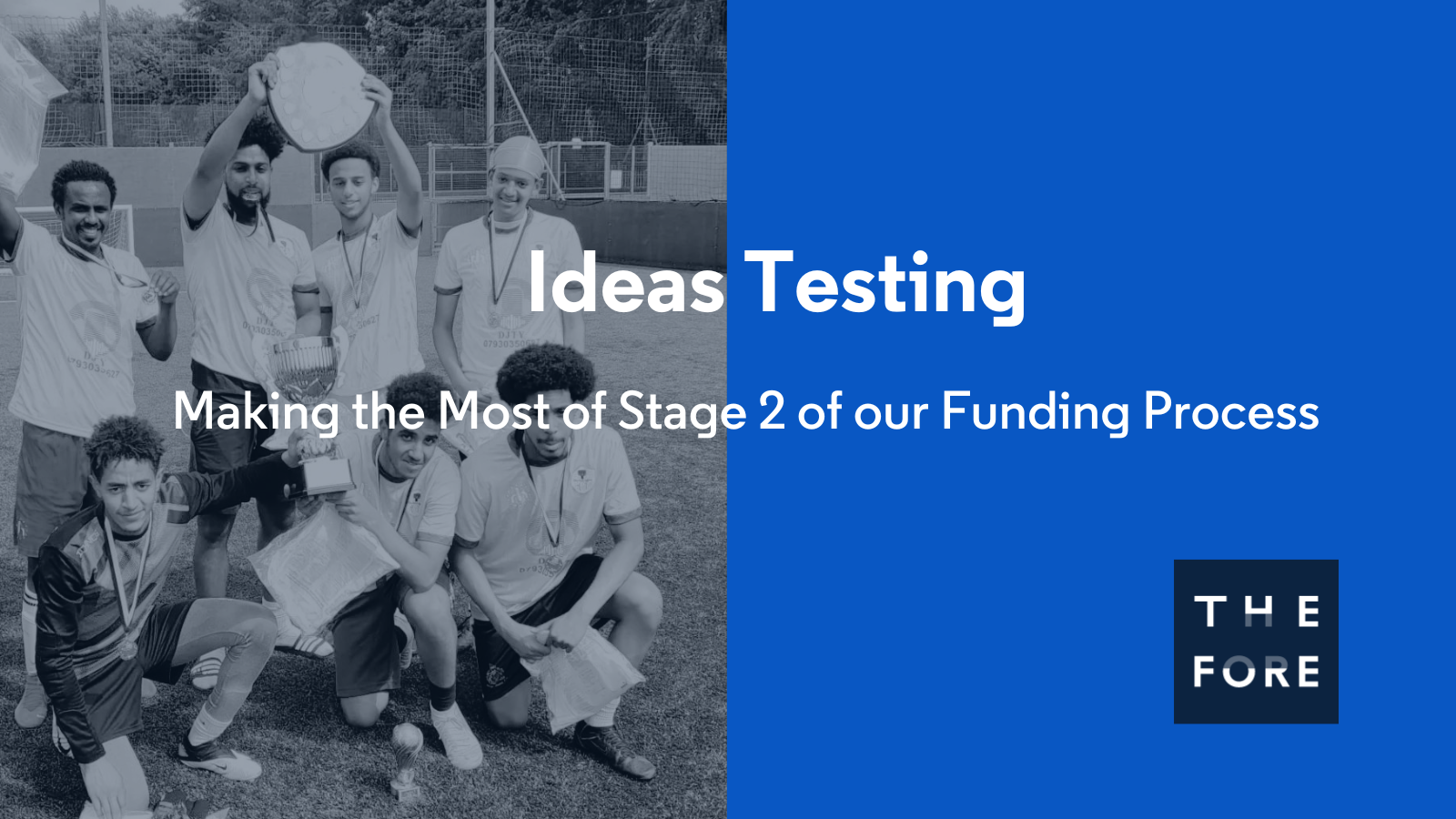 If you've made it to Stage Two of our funding round – well done!
Stage Two is a chance for us to get to know your small charity or "CIC" (Community Interest Company) better from the people that know it best – you. The intention is that even if you don't progress any further, this will be a useful session. You should have the chance to test your ideas. Please don't feel nervous. We know that many of the best people who run small charities don't have lots of fundraising experience.
So what happens?
A member of your senior team will be invited to have a zoom call with one of our "Strategic Applicant Consultants". Our Consultants have at least 10 years' of senior professional experience in business, public or the charity sector. They work as independent freelancers, rather than employees of The Fore.
We choose our Consultants because they want to share some of the strategic skills they've learnt in their careers. And because they love learning about different models for social impact.
Noun: 'Strategic Applicant Consultant'
Definition: A senior professional selected and trained by The Fore. They are chosen because they want to help applicants to talk through their impact, and next steps as an organisation sharing their expertise as they go.
Our Consultants will ask thought provoking questions but this shouldn't be a source of worry. They're not trying to trip you up. They want to understand more about what you're doing, why you're doing it, what your challenges are and what the future could look like. We want you to think really clearly about what your organisation needs to thrive. The questions are intended to help you. 90% of our grantees say that this stage helped them with their organisational strategy. Don't be afraid to be honest, test your ideas, and use your Consultant as a sounding board.
"Our Consultant was brilliant, supportive and offered great advice outside of our application"

Fore Grantee
The Consultant will also be working out if we are the right funder for your organisation. They'll be considering how big of an impact our funding and support can have. They will also supply helpful feedback regardless of which stage you get to.
Your consultant might:
Help you to define your goals as an organisation
Talk through any future needs or challenges
Discover more about your plan, what you'll use the funding for, and how much of an impact it will have
After the call
Next, you might be asked to provide some references. If you are selected to be taken forward to the funding panel your consultant will write up a one page report on your charity and your plans. They may need some more factual information from you to do this but you won't need to write anything more – they'll do it for you, checking in with you all the way.
The final decisions about who gets funding rests with the funding panels. At the funding panel Consultants represent you as an applicant. They are there to answer questions and represent your interests.
The Fore team facilitate the panels, but the decision-makers are a rolling mix of:
– Charity leaders we've funded in the past
– Business people who have contributed funding
If you get funding you'll be invited to take part too. Everyone is trained and required to think about the impact of the funding on the applicant – not what causes they might favour personally.
Consultants are often asked what percentage of charities are funded that they meet. There is no set number. If a third of the charities a Consultant meets with have exciting plans and opportunities ahead of them, they may take them all to the funding panels. It also might only be one of ten. It varies from round to round. What we can guarantee is that everyone gets feedback.
There are a few more tips to help you prepare below. Good luck and we hope you enjoy the conversations!
---
Top tips to prepare:
It's a good idea to have all the documents in your application to hand during your first call.
Review your funding proposal and the financial table submitted with your application. This is so that you're comfortable with the information and figures
Can you explain anything unusual in your financial table or accounts and talk through your reserves policy?
Make sure you're ready to show how much need and demand there is for your work
Be ready to share some evidence of the impact your work makes on people's lives to hand – a case study or story you can tell
Have you thought about your strategy or planning for the next 2-3 years? This doesn't have to be complicated, but your Consultant would love to hear your thoughts
Are there any risks, threats or potentially difficult challenges you need to work on in your organisation? Are there ways you can think of to overcome them?