Ideas Testing: Making the Most of Stage Two of our Funding Process
December 15, 2022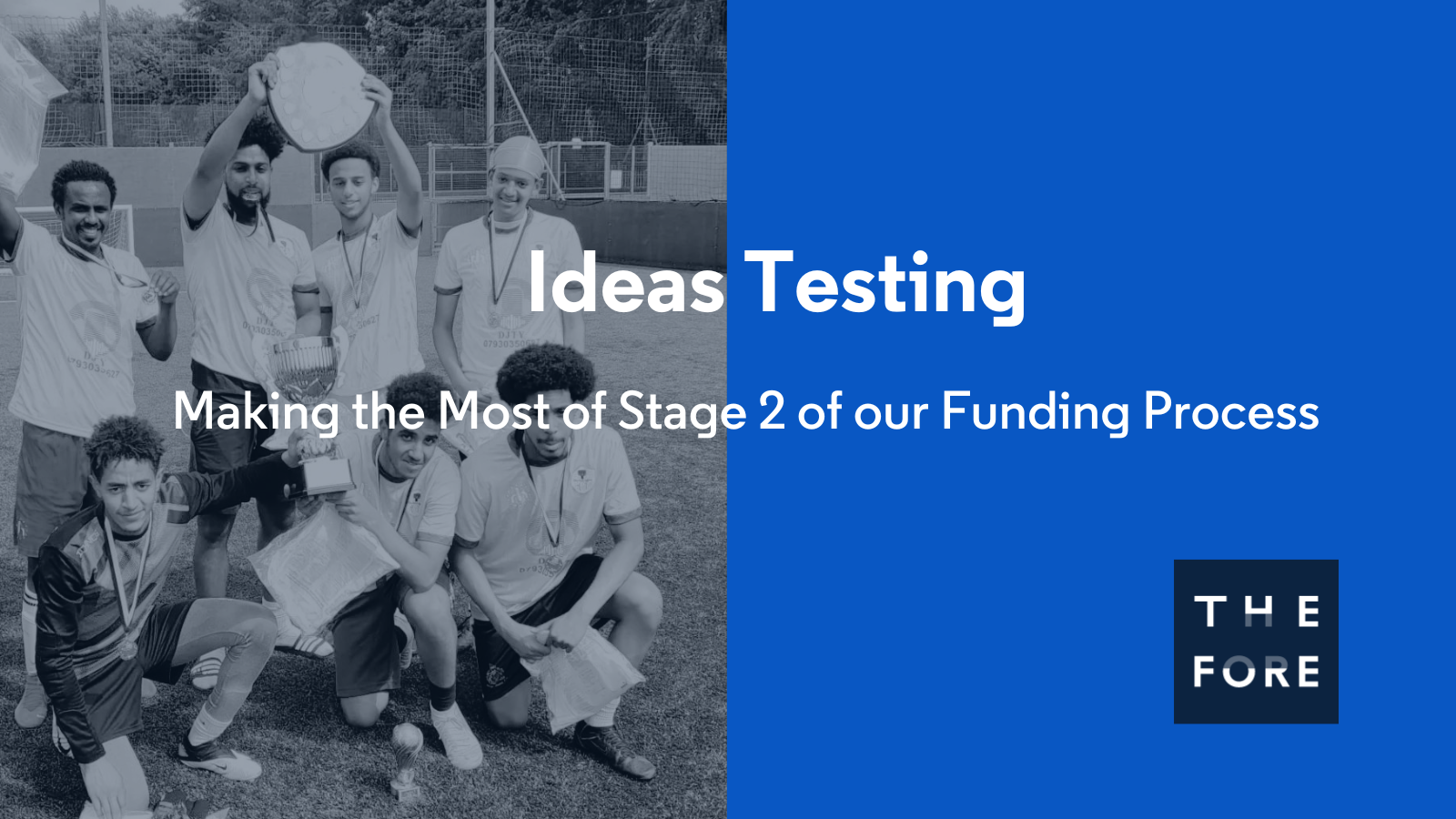 Being invited to Stage Two of our funding process means your application has already done incredibly well. Organisations are progressed to this stage for the transformational potential of their proposal – you now have the opportunity to test your ideas further and gain strategic feedback.
In this blog, we've broken down what you can expect from this stage so you can prepare to make the most of it.
Our Thinking Behind Stage Two
In Stage Two of our funding process, we really get know your small charity or social enterprise. To break it down, the process is designed to:
Gain a stronger understanding of your organisation and the transformational change The Fore's funding could enable
Explore your business plan and provide strategic planning support
Test and evaluate your vision for the funding to mitigate risk
You will be guided in the process by our Strategic Applicant Consultants who have substantial experience in business, public or non-profit sector senior leadership positions and act as a sounding board to test ideas. Organisations who have reached Stage Two of our process describe it as a valuable chance to think creatively about their future. 90% of Fore grantees have reported that conversations with our Consultants have helped them to describe their organisation's strategy more clearly.
What to expect from Stage Two
Stage Two begins with our Consultants inviting a member of your organisation's senior leadership team for a phone or Zoom interview. They might then ask to review some key documents, including your business or strategic plan if you have one and your financial accounts.
As the Consultant narrows down their selection of applicants, they may have a follow up call with you, or ask further questions via email. It is also possible for your Consultant to share the outcome of their assessment at the end of your first conversation together.
If your organisation is shortlisted for a funding panel, our Consultants will ask you to put them in touch with two independent referees. The information gathered in these conversations ensures the best possible request can be put forward to our funding panels based on a thorough understanding of your organisation.
Strategic support is at the heart of our assessment process so if your application is not progressed from Stage Two, you will be offered the opportunity for your Consultant to share some constructive feedback with you.
How can I prepare?
All the conversations that take place in this part of the process are shaped around each organisation's specific needs and context. Above all, our Consultants are looking for strength of management and want to explore the transformational potential of the grant request. It may be useful to ask yourself the following questions before you begin:
Have you reviewed the funding proposal and financial table submitted with your application?
How can you demonstrate that there is both need and demand for your work?
Do you have any evidence of the impact your work makes on people's lives?
Can you explain anything unusual in your financial table or accounts and talk through your reserves policy?
Have you mapped out your business or strategy planning for the next 2-3 years, even if it's in basic terms?
Do you know the high-risk areas in your organisation or proposal and how you can mitigate them?
Our Consultants are there to add value and share useful insights to all applicants who reach Stage Two. We encourage you to make the most of their skills and knowledge and consider the conversations in this process as an opportunity to reflect. The process can provide space to step back and evaluate where you are and consider the organisation in a new light, to better understand the way forwards.