Association of Accessible Employers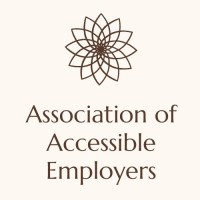 Organisation Description
The Association of Accessible Employers supports employers to understand the issues that individuals who live with disability face in the working world. Its interactive, immersive training is shaped and delivered by people with lived experience of disabilities and learning differences and supports businesses to find high impact, low-cost accessibility solutions.
What are they looking for?
The organisation seeking to recruit trustees, ideally with an interest in making workplaces more accessible and with experience in financial planning and governance.
Timeframe:ASAP.
Contact email:[email protected]
Sector:Health and wellbeing
Location:London
Skills:Finance
Legal form:Community Interest Company (CIC)