The Fore Publishes a New Report: 'A Kitemark for the Overlooked'
July 29, 2021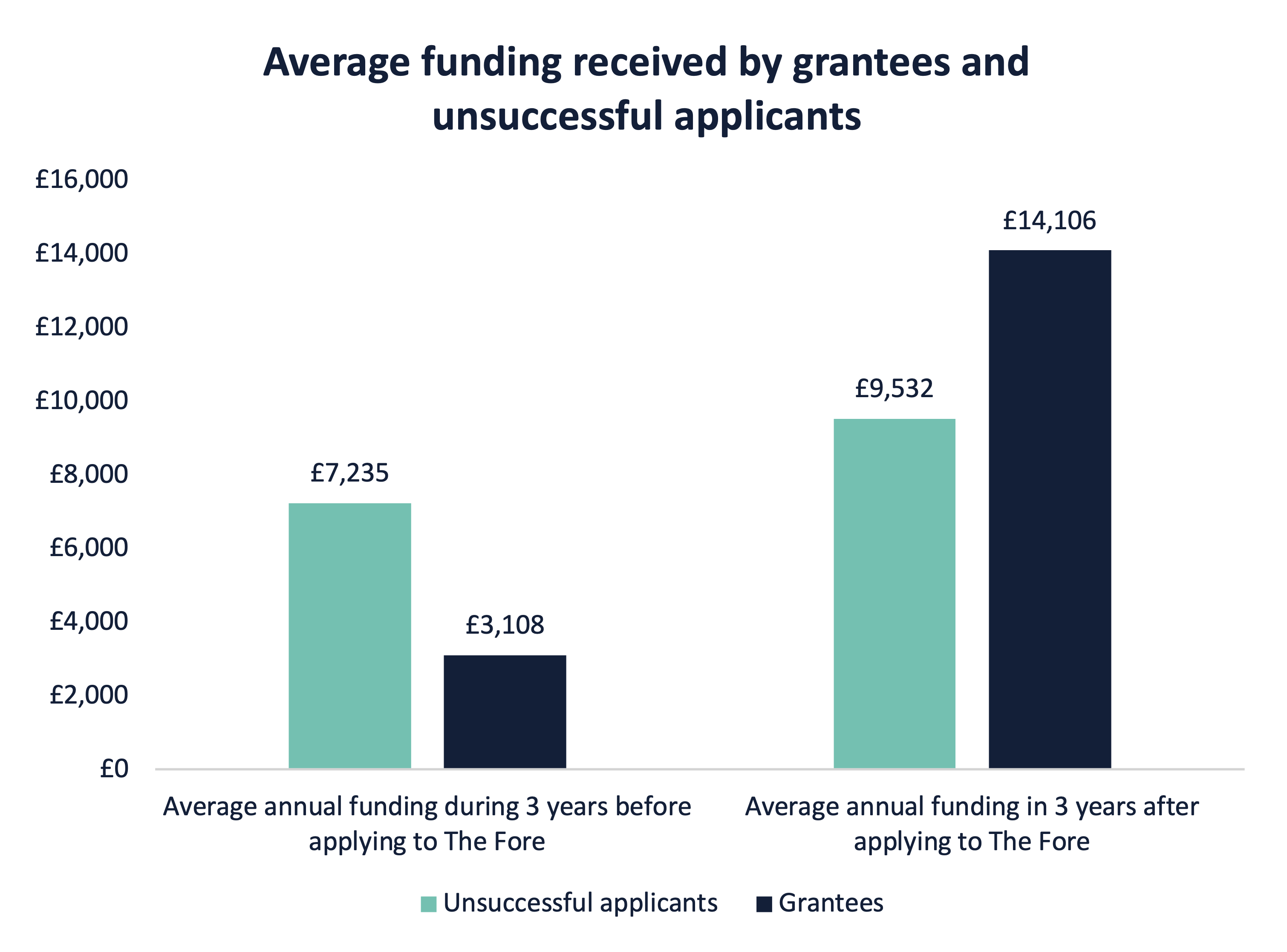 The UK's seed funder for the charity sector shows that unrestricted funding and a trust-based funding model catalyses impact.
A report just published by the The Fore, adds significant weight to the argument that unrestricted funding creates greater impact.  Using 360Giving grant data, The Fore has shown that their grantees, who have all received unrestricted funding, have a grant income growth rate 6 times higher than that of unsuccessful applicants.[1]  
Mary Rose Gunn, Founder and Chief Executive of The Fore said, "We are thrilled. So many funders see providing unrestricted funding to small charities as risky. We hope this new research will encourage them to take another look. Our grantees are unlocking significant extra funding from other trusts and foundations after one unrestricted grant from us."
The results
The Fore is committed to measuring the impact of its work. Following on its 2019 research, The Fore is releasing a second report, A Kitemark for the Overlooked, which provides further evidence that The Fore is 'ahead of the curve'. Drawing on data from 360Giving, this report ​compared the funding trajectories of Fore grantees to those of its unsuccessful applicants. It found that while unsuccessful applicants had higher incomes during the three years preceding their application to The Fore, in the three years after The Fore's grant, the picture flipped. Fore grantees had much higher income growth (65%) than unsuccessful applicants (35%). This was achieved by securing significantly larger grants.
Better reporting, for greater impact
Mary Rose Gunn commented, "We are keen to keep working on our research and to keep sharing our findings as openly as possible to help the funding community. Having said that, the credit for success lies 100% with our grantees, past and present."
The Fore will continue to sponsor research into its programme, to better understand the relationship between its grant-making approach and the incredible success of its grantees. The Fore hopes that other funders adopt similar approaches and will build upon this report. Together, funders can create a culture of rigorous reporting and radical transparency in the sector.
For more details about these results and the study's methodology, please download the report from The Fore's website.
Learn how you can partner with The Fore to support the impact of exceptional small charities and social enterprises.
---
[1] This report examined data on almost 600,000 grants made by 196 funders that has been collected by 360Giving.
---