Forget quiet quitting, repurpose your career
January 31, 2023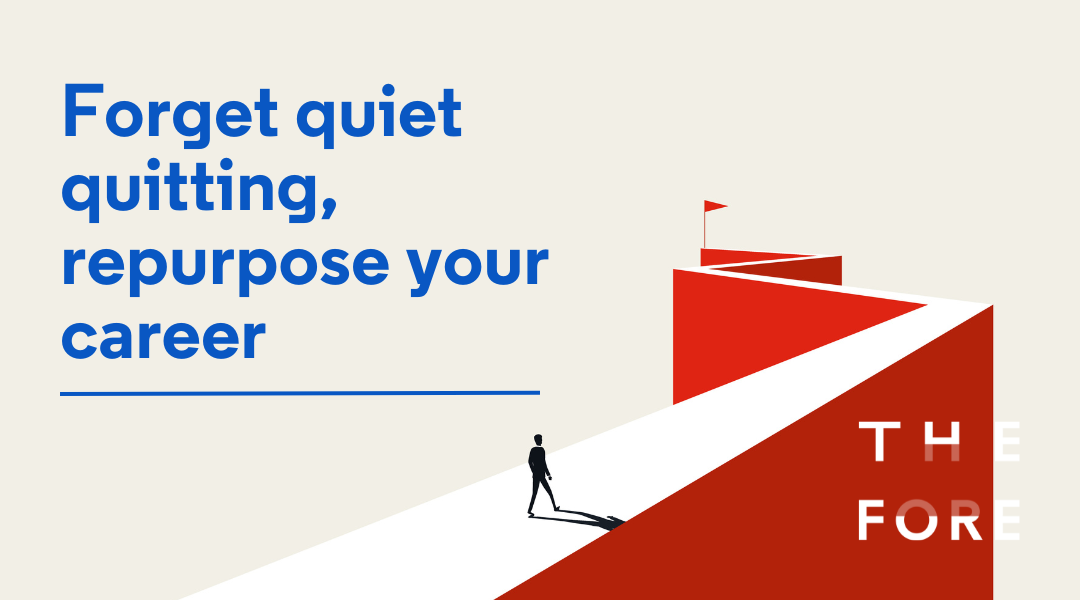 ---

From "quiet quitting" to "the great resignation", people are getting more vocal about doing the bare minimum at work and resigning en masse. In the wake of COVID and amid an economic crisis, it's hardly surprising that employees are questioning what's important to them. An increasing number are searching for more purpose at work.
Some might encourage us to draw harsher boundaries between the work we do for a living and what matters to us outside of it. However, line between who we are professionally and personally is far blurrier than we might like to think.
The 2022 TV hit Severance is a dystopian take on the issue of modern work. The show makes clear that isolating our in and out-of-office experiences is only effective at wearing down our sense of self. So short of quitting your job and moving to the arctic, what exactly is to be done?
Look outside of your 9 to 5 for purpose
Whilst it's easy to dismiss these trends as just that, it's hard to ignore what they all point to. An increasing number of us want our professional lives to have more impact, more purpose and , more meaning. The latest research from McKinsey shows that over 70% of employees say their personal sense of purpose is defined by their work.
There's a balance between not being so embedded in your work that it burns you out whilst finding a sense of purpose. In a world that prioritises spending your life in the office, this can be hard to find.
Maybe you appreciate the stability, monetary compensation and skills flexed in your job, but it doesn't speak to your values. There is a great way to put some brain power towards the greater good, without pulling the plug on your main career. Taking on an board role, trusteeship or doing strategic consultancy could be a brilliant way to use your myriad skills.
At The Fore, our grantees have industry-leading insights into the biggest issues facing Britain today. They are at the forefront, driving and accelerating change, to create a more resilient society. And they're looking for people with the right skills to help them.
Volunteer your skills, not just your time
…and using the skills you already have is a good place to start. Experience in HR, finances or business planning is not divorced from real-world impact but is crucial to making it happen.
It's easy to picture volunteering as a long-term commitment, which happens in a youth centre, or soup kitchen. The truth is that it can just as easily happen from behind your computer. This kind of volunteering can be just as, if not more, purposeful.
A procurement lawyer might feel a world away from a charity tackling adult loneliness but in our experience that couldn't be further from the truth.
Through our skilled volunteering programme we connected Suzy Valentine from our partners at 4C Associates with Safe Soulmates. Safe Soulmates is a Cambridge-based organisation supporting adults with additional needs with safe relationships and friendships. The charity was looking for exactly the kind of legal expertise that Suzy could offer. Together they've been working to help the organisation grow.
"When I heard about the volunteering opportunity at Safe Soulmates, it seemed like the perfect match." Suzy Valentine, 4C Associates
Thinking small with big changes
Perhaps you're thinking of making a big change to the way you work. More and more people are broadening their career focus and professional identity through a "portfolio" career. Instead of putting all our focus into a nine to five, more of us are choosing work made up of small projects and roles that we're deeply passionate about and give us a greater sense of purpose.
Designing your work in a way that doesn't follow a traditional script can feel hugely empowering. There's also a special kind of satisfaction in working with small, nimble organisations, where the input and experience you bring to the table makes an immediate difference. Incorporating this with a cause or purpose, for small charities and social enterprises, can be especially rewarding.
Our Strategic Applicant Consultants at The Fore have a wide variety of skills and backgrounds. Something that they have in common is they all want to share the experience they've built up over successful careers. Whether they've been working in private equity or run a charity experience working in a senior leadership role. People want to work flexibly and have a desire to share their skills with some of the UK's most innovative social entrepreneurs.
Join our next information session over Zoom to find out more. You can also apply to be a member of our exclusive new community. Fore Purpose is a network of exceptional leaders across business, finance and social sectors, discovering purposeful opportunities to give back. Email [email protected] with an expression of interest and CV to find out more.