Meet The Fore's Spring 2022 Grantees
April 14, 2022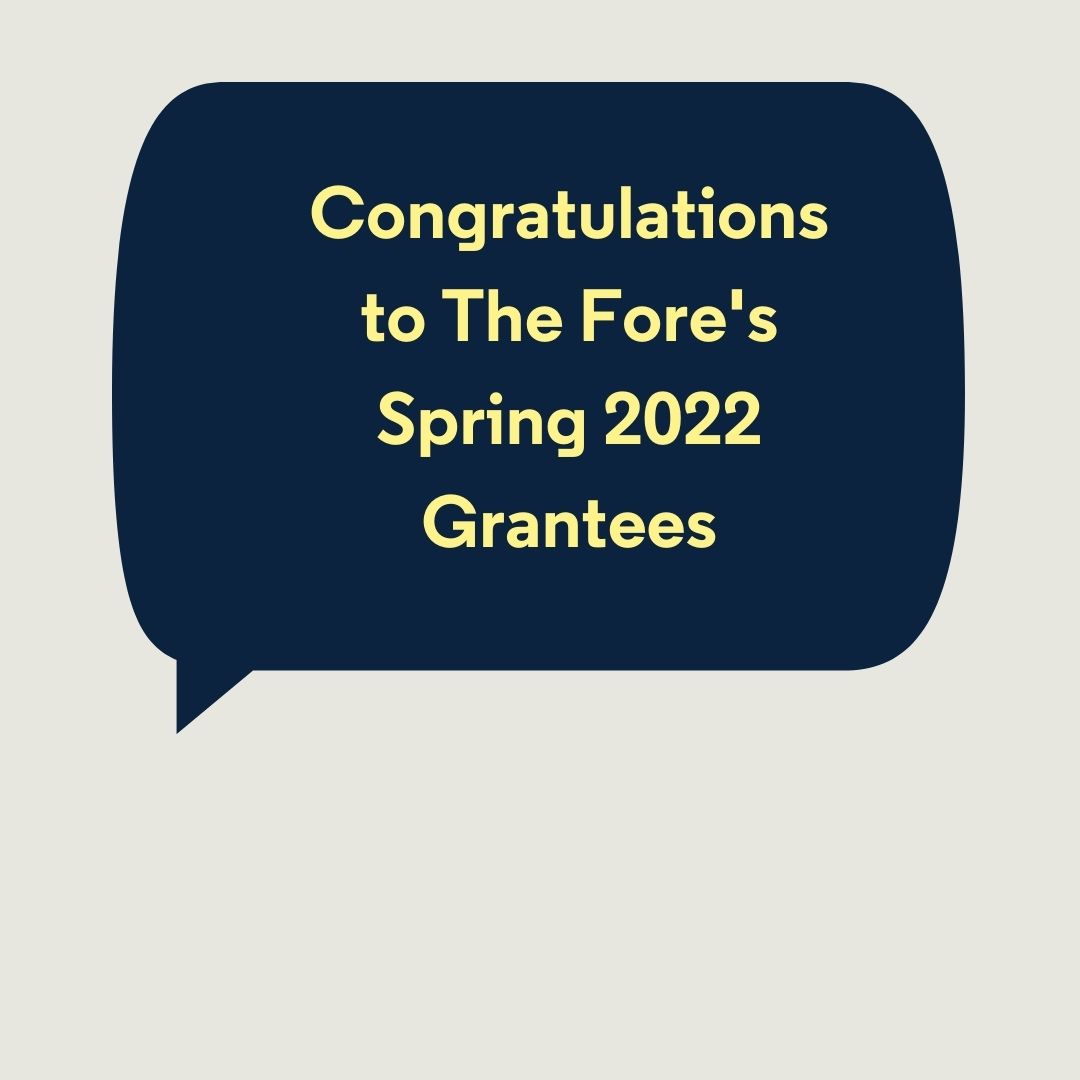 The Fore is proud to announce the completion of its Spring 2022 Funding Round. We have provided unrestricted grants to 15 visionary small charities and social enterprises who are making a real social impact. The Fore provides critical funding, enabling small high-impact organisations to adapt their business models, drive greater impact, and increase sustainability.  
A Process That Works
We continued our outreach to micro-organisations (organisations with incomes under £100,000) with the aim of reaching charities and social enterprises led by and working with marginalised groups. Micro-organisations submitted 52% of applications in this funding round.
The Fore is proud of the regional distribution of applications for its funding. This funding round, 84% of applications were from organisations from outside London, the second highest proportion since the Fore's inception. This proportion validates the effort The Fore has invested in engaging communities throughout the UK, increasing awareness of its work to support small organisations. 87% of new grantees from this round are based outside of London. 
The Fore will provide each successful organisation with up to £15,000 in unrestricted grant funding over six to 18 months. All grantees are also offered strategic advice and pro bono support in addition to impact measurement courses to support them in building evidence of the effectiveness of their social impact.
The Fore's trained Strategic Applicant Consultants conducted extensive due diligence on applications over a two month period. They selected a shortlist to present to funding panels, composed of representatives from The Fore's business partners, our grantee organisations, and other supporters. The inclusion of grantee leaders on The Fore's funding panels ensures decisions are charity-driven and reflect the insights of community organisations making a real social impact.
Meet our latest cohort of grantees below.
Find out how you can partner with The Fore to support organisations with the potential to transform society.
---
 The Spring 2022 Funding Round Grantees
A Fairer Chance works to reduce crime and its impact on communities by providing ex-offenders with intensive support to place them in sustainable employment. The organisation partners closely with large employers such as Sainsbury's to change perceptions of ex-offenders. The charity is using funding from The Fore to employ a Business Development Officer to maximize the potential of relationships with a pipeline of potential new corporate partners.  
Since 1972, The Agnes Smith Advice Centre has been providing specialist, confidential advice to those experiencing issues with debt, welfare benefits and housing in the Blackbird Leys Estate, Oxford. The impact of the organisation is remarkable. In 2021 alone, they helped 1,200 people claim over £1.3 million in entitlements and write off debts of £400,000. The organisation is now merging with a neighbouring community advice centre to broaden their reach across South Oxford. The Fore's grant will allow to the organisation to upskill staff and increase capacity, so the is team is well placed to steer the charity through this exciting period of growth and social impact.
Amma Birth Companions is a Glasgow-based charity that provides 1:1 support to vulnerable birthing people and parents who need care, information or advocacy.  They partner with a network of support agencies to ensure their clients' can confidently care for themselves and their babies. As the organisation grows, they have identified expectant and new teenage parents as an underserved beneficiary group. Amma Birth Companions are using funding from The Fore to employ a Peer Support and Education Coordinator who will design and deliver the teen parent and pregnancy support so the charity can expand the vital services they offer.  
Established in 2013 by leading clinicians, the Body Dysmorphic Disorder Foundation supports those affected by the debilitating condition of body dysmorphic disorder. With services moving online during the pandemic, the organisation has made connections with a groundswell of isolated sufferers. At this critical time of growth in demand, the Foundation will be using The Fore's funding to increase operational capacity. This will free leadership to secure CSR income from beauty and fashion industry corporates who are a natural fit for the organisation as they grow their social impact.
Through their accessible creative arts courses, Cambridge Community Arts helps to build connections and confidence for adults with mental and/or physical health conditions. Their work brings together individuals through a shared interest with creative learning enabling users to achieve and believe in themselves. Cambridge Community Arts is using funding from The Fore to streamline data collection and better demonstrate their impact. This key infrastructure will allow the organisation to focus on expanding its services into new areas. 
CRADLE Charity provides a range of support to individuals, couples, families, and surrogates who experience an early loss of pregnancy. Working closely with its charity peers in 40 hospitals across the UK, the organisation fills a critical gap in provision. To date, they have supported over 5,000 individuals through specialized loss counselling, peer networking and comfort packs. The Fore's grant will allow the organisation to grow their income and promote their services to more individuals, and NHS trusts.  
Hope Counselling Dundee are a counselling and psychotherapy service working with adults, young people, and couples in the Tayside area.  They fill crucial gaps in mental health services and their pay-what-you-can model ensures all members of the community can access counselling. With the organisation at a critical stage of growth, they are using The Fore's funding to increase operational capacity. This will free leadership to consolidate promising funding opportunities that will enable and meet the needs of more local people.
In2Change South Yorkshire aim to prevent youth people and ex-offenders from becoming or remaining involved in criminal activities. Their interventions empower young people to make informed choices and realise their potential. With additional staff capacity, senior leadership will focus on implementing organisational strategy and scaling the charity's reach into further local areas.
Mindspace Stamford is a volunteer-led mental health and well-being charity that aims to increase, knowledge and understanding of mental health. By providing easily accessible wellbeing activities, the charity encourages conversations around mental health in a non-judgmental environment. The organisation will use The Fore's grant to make a major step change and employ their first paid member of staff. The role will allow Mindspace Stamford to significantly grow its activities, address unmet needs and scale its social impact.  
MN Well Child Support is a Lowestoft based organisation that provides critical care to children experiencing early stages of poor mental health. Working directly with families, they offer 1:1 support at home for upwards of 6 months. The organisation's model is designed to address gaps in statutory service provision, and their early intervention approach targets a hard to reach community of families. The organisation is using The Fore's grant so it can expand the vital services they offer and develop new partnerships.
Safe Soulmates is a dynamic social enterprise that aims to end loneliness for adults with additional needs. Its membership-based service provides in-person and Zoom social events, chaperoning for friendship/date matches and guidance on building safe and healthy relationships. They are using The Fore's grant to fund a new Volunteer Coordinator. As the organisation develops its ambitious strategy, additional capacity will free the leadership to expand the organisation's reach and develop new streams of earned income.  
TalkFIRST supports vulnerable and disadvantaged families in Wigan experiencing family conflict through person-centred mediation, conflict resolution and guidance. Their early intervention service prevents further deterioration of relationships and increases resilience. The charity's mediation services are in high demand: 294 beneficiaries have accessed the programme since 2020. TalkFIRST will use The Fore's funding for an additional Family Mediator who will enable the organisation to take on more referrals and maximise the potential of their earned income streams.
For 23 years, Red Hen Project has supported children and their families to overcome barriers to learning. The organisation has a powerful impact with 96% of parents/carers reporting increased confidence in their parenting and improvement of family life. The Fore's grant will fund a Fundraising Officer who will free leadership to make a success of promising new partnerships.
WAM (We All Matter) Youth offers a variety of youth services to help young people be more confident, reduce destructive behaviours and strengthen relationships. They work with over 160 young people and deliver groups, mentoring and after school clubs in the organisation's woodland space. The Fore's grant will catalyse the opening of a new youth centre. The building will sustain the organisation's growth and provide a consistent indoor space for young people and the wider community. 
---