Meet our Autumn 2022 Grantees
November 28, 2022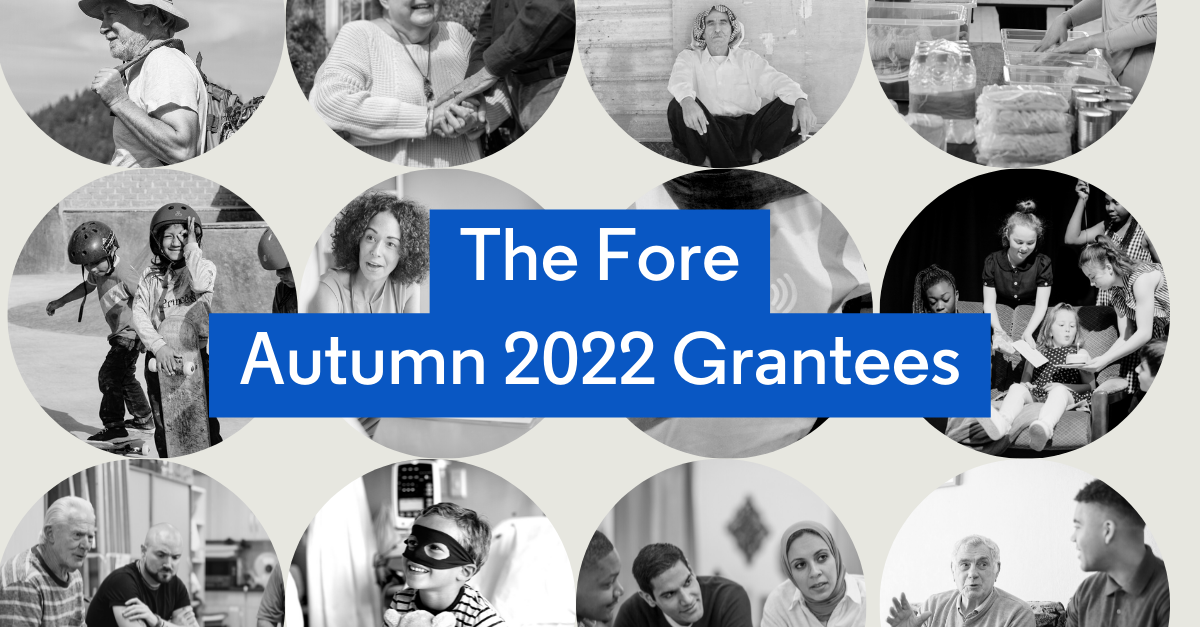 This Autumn we've welcomed 12 exceptional small charities and social enterprises into our community of grantees. With the cost-of-living crisis and pandemic's knock-on effects, this cohort are already creating brilliant solutions to some of society's most challenging issues.
As always, we sought out life-changing social innovations. Across Peru, Kurdistan and Tyneside, our newest grantees are redistributing goods destined for landfill, getting people with criminal records back to work, and building skateparks to teach young communities the power of cooperation.
We let our grantees tell us what they need funding for. Rather than offering funds for specific projects or outcomes, we listen to what would be best for their growth and resilience. We know that the charities we fund are better placed than anyone to meet the needs of their communities. We also know that innovative organisations are often shaped by personal experiences and insights.
Collette started Conversations Over Borders over lockdown. Working in mental health services, she heard frequent requests for English support from displaced communities. Since launching Conversations Without Borders in May 2020 her charity has facilitated over 8,300 English conversation classes. They've now engaged 501 volunteers together with 397 people from refugee backgrounds.
An estimated 20,000 women in the UK experience a debilitating urinary condition known as Fowlers' Syndrome, yet it is still desperately under-researched. After her own diagnosis, Dani felt both the lack of knowledge within the medical community, lack of support for people living with the condition. She decided to set up the UK's dedicated charity, Fowlers' Syndrome UK, to encourage research. Since 2020, they've built up a network of clinicians, researchers, and experts to share resources. No longer alone in her diagnosis, Dani is working to improve the lives of thousands of other women with her lifechanging condition.
"On my journey I noticed how few medical professionals had an understanding of the intricacies of Fowler's and its varying manifestations in different individuals. I also noticed how few resources were available for Fowler's patients, and really wanted to do something about this." – Dani, Founder of Fowlers' Syndrome UK
Our approach at The Fore is to introduce visionary leaders to the right networks, grant funding and support they need to thrive. We understand that no small charity or social enterprise is the same. Rather than lengthy application forms with no feedback, each organisation who applies is assigned a consultant. Together, they explore their current priorities and what they needed to strengthen their organisations for the future.
Shortlisted ideas are then represented at our funding panels. A lively mixture of business partners, donors and past grantees, our panellists assess each idea. Grants are awarded on how transformational an impact our funding and support will have. This Autumn's grants have funded salaries, stopping restless nights for CEOs, freed up months of work with admin support, and will allow some projects to build on their global aspirations.
We're excited and privileged to be investing in their growth. Read our Autumn Grant Summary to meet the ideas we're supporting for a fairer, more just, and more connected society.
Registrations for our Spring 2023 Funding Round will open on December 12th at 10:00am. Find out more here.
To support The Fore's mission of seeding more solutions for the problems of tomorrow, today, get in touch with [email protected] or donate here.
We will be announcing our grantees on social media and sharing their stories over the next month. Follow us to keep up.
At The Fore we find, empower and accelerate innovative young charities and social enterprises working on some of today's hardest challenges. Find out more at www.thefore.org