At the Forefront: Fareed Baloch on AI and the Future of Mental Health
May 4, 2023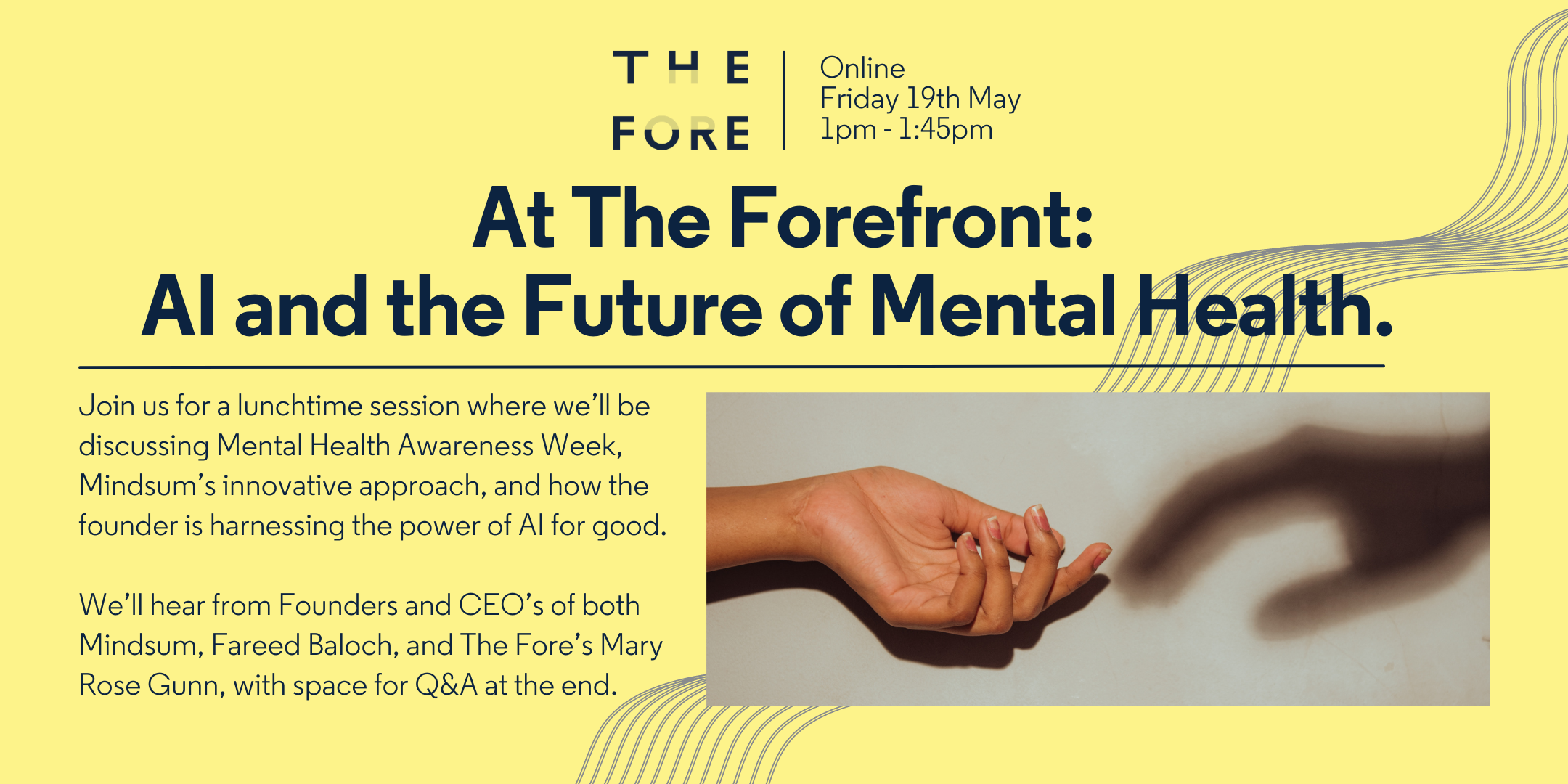 On Friday 19th May, we discussed Mental Health Awareness Week, Mindsum's innovative approach, and how the founder is harnessing the power of AI for good. We heard from Founders and CEOs of both Mindsum, Fareed Baloch and The Fore's Mary Rose Gunn.
Mindsum is a technology social enterprise with a mission to put quality mental healthcare in the hands of every young person on the planet.
The Fore awarded Mindsum £15,000 in unrestricted funding and support in late 2020. We also paired them with a volunteer from McKinsey. Together they helped to create a competitor analysis that shape Mindsum's ongoing strategy. Last year, they were able to support over 12,000 people through their phone, chat and signposting services.
"The access to skilled volunteers is very valuable, but most importantly, The Fore gave us psychological confidence and inspiration."

Fareed Baloch, Founder and CEO Mindsum
Mental health problems often start young, with one US study stating that 75% are established before the age of 24. Yet 75% of young people don't get access to the mental health support they need. This has a knock-on effect on the economy, with an estimated 4.5% of GDP lost to mental ill health every year. Mindsum helps young people get the help they deserve before problems become entrenched.
In a world of tech giants and moral breeches, the social enterprise is refreshingly harnessing AI for purpose, rather than profit. Mindsum uses AI technology to both match therapists with prospective clients in their online database, and to provide an online chat service for young people seeking comfort and advice.
Another project is a "safe space" online message board where clients can leave anonymous queries for therapists to get back to. To add to this, they provide up to four free sessions with peer support workers, who create personalised support plans for their clients.