Essex Respite and Care Association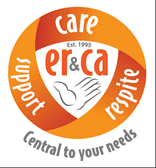 Organisation Description
Established in 1995, Essex Respite and Care Association (ERCA) support people with a mental health diagnosis, and their carers.
The charity support clients to become involved in their communities, with practical and personalised one-to-one support. Support workers provide therapeutic activities, alleviate social isolation, and help clients to develop independent living skills.
What are they looking for?
The team need social media support to help them get new referrals, as well as marketing mentoring for the co managers
Contact email:[email protected]
Sector:Health and wellbeing
Location:South East
Skills:Marketing and communications
Legal form:UK-registered charity