Apollo Music Projects Request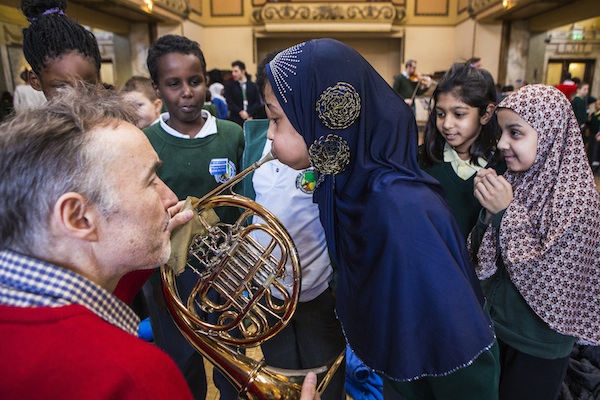 Organisation Description
Apollo Music Projects brings live classical music to children who might not otherwise experience it, supporting wellbeing and enhancing creativity and self-confidence. Since 2004, more than 16,000 children have experienced the magic of live performance from classroom to concert hall.
Working with primary and special schools in deprived areas across north and east London, our programme provides a unique opportunity for children to work closely with professional musicians, through a series of classroom workshops culminating in the thrilling spectacle of a full orchestra in concert.
Our recent Impact Report showed that our programme has a significant positive impact on children's wellbeing, with many stating that listening to music in our workshops helped them with better concentration, relaxation, self-confidence and controlling their moods:
"It honestly takes your breath away – the moment it starts is magical. It's like taking you to another dimension." Year 5 pupil, Woodberry Down Primary School, Hackney.
What are they looking for?
Apollo Music Projects is looking for a Trustee to join our Board of Trustees. This is a wonderful opportunity to join the board of a dynamic and successful organisation. "Apollo is a national treasure" – Sir Simon Rattle The role requires a strong understanding of charity governance. Prior board experience is desirable, ideally in the Arts or education sectors. The Trustees are responsible for the governance of the charity, and this is something that is of the greatest importance to Apollo Music Projects. The charity has a strong executive team of a CEO/Founder and three part-time staff, who are delegated by the board to run the charity's operations and supported by the trustees. We are looking for Trustees to help us to shape the next part of our development, having survived the last two challenging years in good shape, and managing to recover to the position we were in before the pandemic. Knowledge of Governance, Education or Marketing and communications preferred. Apollo Music Projects is committed to improving diversity in its Board, and we particularly encourage applications from women and people from under-represented backgrounds.
Timeframe:Deadline of 17 November 2023
Contact email:[email protected]
Sector:Art and culture, Youth and education
Location:London
Skills:Trusteeship
Legal form:UK-registered charity