Meet The Fore's Summer 2022 Grantees
July 19, 2022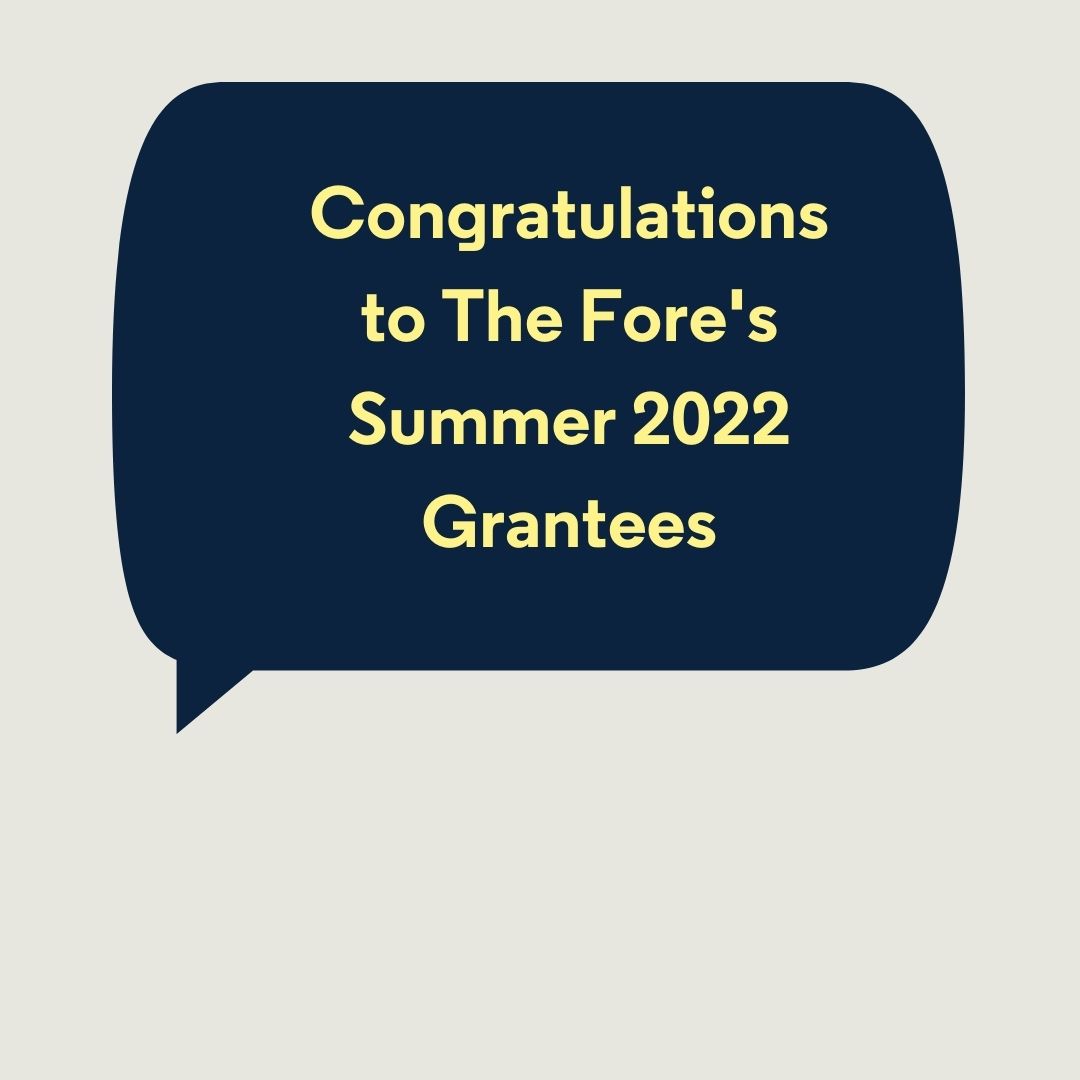 We are proud to announce the completion of its Summer 2022 Funding Round and second South West Hub Funding Round. Through these programmes, The Fore has welcomed nine exceptional small charities and social enterprises in to our community of grantees.
This summer, The Fore has worked with regional partners to provide grants specifically targeted at organisations in Cornwall.  The South West Hub is providing support to three innovative organisations working to support for survivors of domestic violence, provide outdoor education for young people, and build communities for women.
We encourage micro-organisations (incomes under £100,000) to apply for funding, with the aim of reaching charities and social enterprises led by and working with marginalised groups. Across the summer funding rounds, 66% of grantees were micro-organisations. 
The Fore provides each successful applicant with up to £30,000 in unrestricted grant funding. We offer strategic advice, pro bono support and training to help organisations as they build their impact.
Our Strategic Applicant Consultants conducted extensive due diligence on applications over an eight week period. They selected a shortlist of their most promising charities and social enterprises to present to The Fore's funding panels. These are composed of representatives from The Fore's business partners, donors, senior representatives from past grantees, and other supporters. The inclusion of past grantee leaders on the Fore's funding panels ensures decisions are charity-driven and reflect the insights of community organisations.
---
 Our Newest Cohort Of Visionary Small Charities and Social Enterprises
---
Meet Our Summer 2022 grantees:
The Association of Accessible Employers supports employers to understand the issues that individuals who live with disability face in the working world. Its interactive, immersive training is shaped and delivered by people with lived experience of disabilities and learning differences and supports businesses to find high impact, low-cost accessibility solutions. To meet the growing demand for experiential training delivered by disabled trainers, the organisation is using The Fore's funding to hire a Business Development Officer to hone its offering, bring in new clients and generate a sustainable revenue model.  
Ersilia Open Source Initiative aims to create a world with more equitable access to healthcare by equipping universities and clinics in low-income countries with artificial intelligence (AI) tools for infectious and neglected disease research. Focusing on Southern Africa, the organisation's accessible AI and capacity building initiatives strengthen local universities and institutions' ability to tackle the health needs of their own people. The charity is using The Fore's grant to fund a salaried CEO in order to transform the organisation from a 'start-up' to a sustainable charity able to deliver at scale and reach its potential.
Family Compass delivers creative and family-focused therapies, high-quality mentoring and therapeutic group sessions to children and their families in Barnstaple, North Devon. The organisation partners closely with local authorities and communities to support families and fill crucial gaps in mental health services. The Fore's grant will fund the renovation of new, larger premises which will drive the organisation's expansion. This opportunity will also put the charity on a path to financial sustainability by creating bespoke therapy space which can be rented by local therapists to increase service capacity in the area.
Located in Scotland's most ethnically diverse neighborhood, GAMIS partner with residents and artists to promote accessible cinema in Govanhill, Glasgow. GAMIS's work explores the role of cinema in local communities for swapping stories and the representation of marginalised communities. The Fore's grant will fund a microcinema to be used as an arts hub. This will provide space and technical film skills to facilitate community-led screenings and creative projects. This major step change will enable the organisation to establish a more permanent and approachable presence in the local area.   
Organisation of Young Africans (OYA) has provided holistic support to young people and their families of African and African-Caribbean heritage since 2000. They offer a range of services from academic training in core subjects to traineeships for over 16s. 200 young people aged between 9 and 19 spend up to 200 hours each per annum benefitting from these activities. OYA is using The Fore's grant to employ a Programme Manager who will implement more efficient, and sustainable systems.
Based in Arbroath, Skilz Academy works to improve the lives of those experiencing poverty, mental health issues and social isolation. The charity delivers creative projects, community sport, walking groups for the elderly, digital skills programmes and runs a community café. Its series of user-involved working groups ensures services reflect the needs of the community. The Fore's funding will catalyse the opening of a new AstroTurf pitch which will meet significant need for an outdoor space.
Meet Our South West Grantees
Inspiring Women Network is a grassroots community group in Truro that empowers women to achieve their full potential by creating an inclusive space for all communities to belong. The organisation's 200 members are offered a programme of wellbeing and creative workshops, peer support, coaching and advocacy. The Fore's grant will catalyse the opening of a new hub. Through the new space, the charity will be able to offer its full programme of events on a more regular basis. They will also expand reach with increased visibility and accessibility in a central location.   
Refuge4Pets is a pioneering organisation that enables freedom from domestic abuse for victim-survivors in Devon and Cornwall. They do this by providing a specialist fostering service for pets of survivors and resettlement services to aid mental and physical recovery. The organsiation is fast becoming a national voice and provides training to animal welfare agencies and organisations across the UK. R4P's services are in high demand and it is now using The Fore's funding to increase operational capacity and efficiency. This will enable leadership to focus on developing the charity's financial resilience and managing organisational rebranding initiatives. 
Through its free, creative outdoor experiences and events, Curious School of The Wild aims to overcome the barriers for marginalised groups and those on low incomes in Bodmin to engage in outdoor learning. In the last 12 months, the organisation has run 38 community sessions including walking groups, youth groups and skills workshops. The social enterprise is using The Fore's grant for additional capacity so it can expand its vital services.
Partner with us to support a new generation of small charities and social enterprises. Find out more here.
---